Editors: Mirjam van Reisen, Munyaradzi Mawere, Mia Stokmans, Kinfe Abraha Gebre-Egziabher
Year: 2019
Publisher: Langaa RPCIG, Cameroon
ISBN: 9789956551019
Pages: 628
Dimensions: 229 x 152mm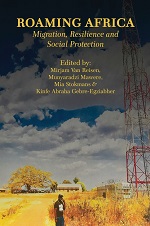 What happens when digital innovation meets migration? Roaming Africa considers how we understand modern-day mobility in Africa, where age-old routes strengthen the resilience of people roaming the continent for livelihoods and security, assisted by mobile communication. Digital mobility expands connectivity around the world, and also in Africa.
In this book, the authors show that mobility, resilience and social protection in the digital age are closely related. Each chapter takes a close look at the migration dynamics in a specific context, using social theory as a lens. This book adopts a critical perspective on approaches in which migration is regarded merely as a hazard.
Edited by distinguished scholars from Africa and Europe, this volume, the second in a four-part series Connected and Mobile: Migration and Human Trafficking in Africa, compiles chapters from a diverse group of young and upcoming scholars, making an important contribution to the literature on migration studies, digital science, social protection and governance.
Preface by Zaminah Malole ………… i
Part 1 – Theoretical Perspectives ………… 1
Part 2 – Living Borders …………. 83
Part 3 – New Perspectives in Migration ………… 141
Part 4: Livelihoods ………… 253
Part 5: The Challenges of Return Migration ………… 345
Part 6: Social Protection ………… 433
Chapter 7: Defining Responsibilities at the National Level ………… 519